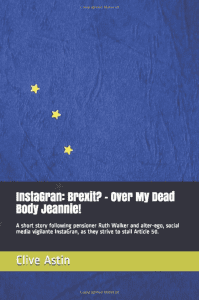 A short story following pensioner Ruth Walker and alter-ego, social media vigilante InstaGran, as they strive to stall Article 50.
Having recently lost her husband around the time the Great British public voted to leave the EU, Ruth Walker, otherwise known as social media vigilante, InstaGran, seeks escapism through trying to foil the triggering of Article 50 of the Lisbon Treaty. However, is duping Downing Street security to then post selfies of herself 'night soiling' seemingly unrelated documentation enough to ensure the UK remains a member of the European Union for the foreseeable future?
Buy the paperback on Amazon here.